In Novi Sad, you have several accommodation options to choose from, catering to various budgets and preferences. Some of the places to stay include Hotels, Hostels, Apartments and Bed & breakfast.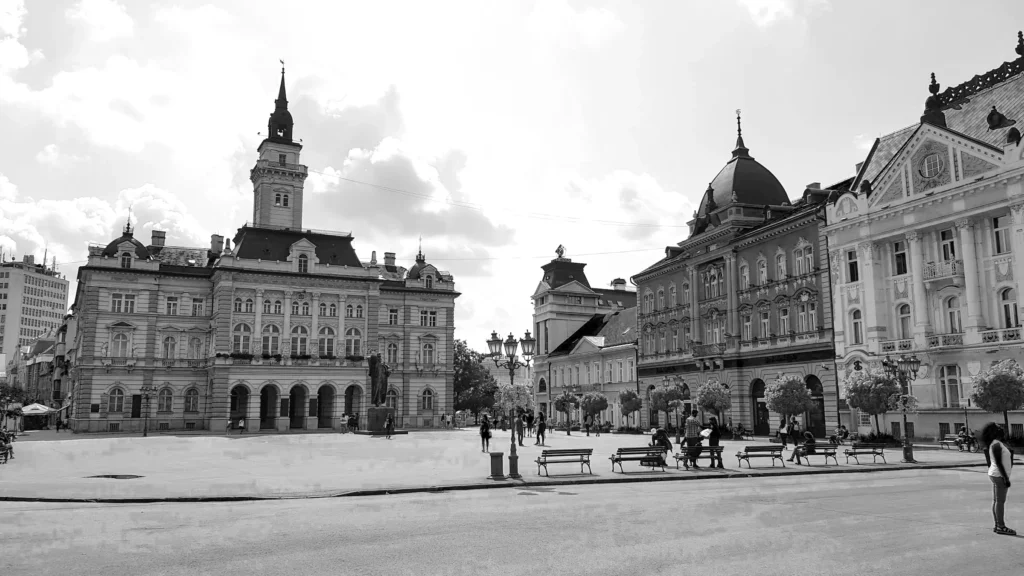 Hotels
There is a range of hotels in Novi Sad, from luxury establishments to more budget-friendly options. Some popular hotels in the city are Hotel Park, Prezident Hotel, Hotel Centar, and Hotel Vigor.
Hotel Park
One of the most famous and luxurious hotels in Novi Sad is Hotel Park. This 5-star hotel is situated near the city center and Danube Park, offering an ideal location for both leisure and business travelers. The hotel features elegantly designed rooms and suites equipped with modern amenities, including air conditioning, flat-screen TVs, and free Wi-Fi. Hotel Park also boasts a range of top-notch facilities, such as a spa and wellness center, an indoor pool, a fitness center, and several on-site restaurants and bars. The hotel's lush garden and terrace provide a relaxing outdoor space for guests to unwind.
Prezident Hotel
Another renowned hotel in Novi Sad is the 5-star Prezident Hotel. Located near the Novi Sad Fair and the city center, this upscale hotel offers a blend of contemporary design and comfort. Guests can choose from a variety of stylish rooms and suites, all of which are equipped with modern amenities like air conditioning, flat-screen TVs, and minibars. The Prezident Hotel also features a range of facilities to enhance guests' stay, such as a spa and wellness center, an outdoor swimming pool, a fitness center, and an on-site restaurant serving a mix of local and international cuisine. The hotel's professional staff and attention to detail ensure an enjoyable and memorable stay for visitors.
Hotel Centar
Hotel Centar is a modern, 4-star hotel located in the heart of Novi Sad, within walking distance of many of the city's main attractions, such as the Name of Mary Church, the central square Trg Slobode, and the pedestrianized Zmaj Jovina Street. The hotel offers a comfortable and convenient stay for guests, featuring elegantly furnished rooms with contemporary amenities, including air conditioning, flat-screen TVs, minibars, and free Wi-Fi. In addition to its prime location and well-appointed accommodations, Hotel Centar provides guests with a 24-hour front desk, a bar, meeting and conference facilities, and a buffet breakfast to ensure a pleasant stay in Novi Sad.
Hotel Vigor
Hotel Vigor is a 3-star hotel situated in a quiet residential area of Novi Sad, offering a comfortable and affordable stay for visitors. The hotel is conveniently located close to the main highway E75, providing easy access to the city center, which is about 3 km away. Hotel Vigor features tastefully decorated rooms with essential amenities such as air conditioning, flat-screen TVs, free Wi-Fi, and a minibar. The hotel also offers a 24-hour front desk, a restaurant serving a variety of local and international dishes, and a complimentary buffet breakfast for guests. With its warm hospitality, modern facilities, and convenient location, Hotel Vigor presents a great option for travelers visiting Novi Sad.
Hostels
If you're on a budget or prefer a more social atmosphere, you can choose from several hostels in Novi Sad. Some notable options include Varad Inn Hostel, City Hostel, and Downtown Hostel Novi Sad.
Apartments and vacation rentals
Renting an apartment or vacation home can be an excellent option for families or those who prefer more privacy and space. Websites like Airbnb, Booking.com, and Vrbo offer various options for vacation rentals in Novi Sad.
Bed and breakfasts
B&Bs and guesthouses are another option for a more intimate and personalized stay. These accommodations often provide a homely atmosphere and may include breakfast as part of your stay.
When choosing where to stay in Novi Sad, consider factors such as proximity to the city center, access to public transportation, and the availability of nearby attractions and amenities. It's advisable to book your accommodation in advance, especially during peak tourist season or when major events like the EXIT Festival are taking place, as availability may be limited.